Born in Bermuda, Kamille always knew that she wanted to work with animals, so the natural next step was to become a Veterinary Technician. Kamille moved to New York to study at Mercy College and after a lot of hard work she graduated with a bachelor's degree in Veterinary Technology in 2016. After graduating she worked at Banfield Animal Hospital in New York before returning to Bermuda in 2017 where she joined Ettrick. Working as a Veterinary Technician can often mean working long, irregular hours but Kamille enjoys caring for all patients and says that seeing an animal recover more than makes up for it. She is also our blood draw superstar, always managing to draw blood from even the most challenging veins! Outside of work Kamille is a keen traveler. She enjoys playing badminton and spending time with her cat Ria-Nessa. She is also a little obsessed with the color purple!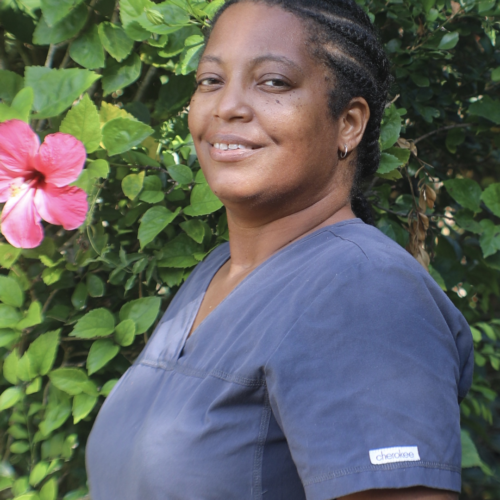 Dawnelle was born and raised in Bermuda and always knew that she wanted to work with animals in some capacity. After some searching, Dawnelle realized that nursing was her dream profession. Determined to purse this, she started her nursing journey over 20 years ago and joined Ettrick in 2012. She greatly enjoys all aspects of nursing but is most passionate about pain management and rehabilitation. She has undertaken extra training and is certified in small animal massage. She takes pride in creating pain management plans for animals recovering from surgery and elderly animals that may be suffering from joint issues such as arthritis. Outside of work, Dawnelle has many hobbies including gardening, crafting, crocheting and photography. She also enjoys spending time with Bananas her cat.
Lauren was born in Canada and from a young age realised that a career in the Veterinary field would be highly rewarding. Lauren decided to undertake a degree in veterinary technology at Seneca College, Toronto, and after a lot of hard work, graduated in 2013. After graduation, Lauren worked for several general practice and emergency small animal hospitals in Canada before taking her love for travel and veterinary medicine to Thailand and South Africa. Lauren then made the exciting move to Bermuda in 2018. After quickly falling in love with Bermuda, Lauren decided to stay and joined the Ettrick team in 2020. When she isn't at work, Lauren spends her time studying to be a certified canine rehabilitation practitioner. She greatly enjoys spending time at the beach or out on the water before going home to spend the evening cuddling her two cats.